What is a 5.0 Coyote Engine?
The Coyote 5.0 is a beast of an engine. Available as a long block crate, it's commonly used as an upgrade or replacement for older vehicles.  A perfect match for Classic Ford Broncos to use in our restorations.
The Ford Coyote engine, first engineered for the Ford Mustang GT back in 2011, is currently being offered as a 5.0 liter, 460 horsepower, naturally aspirated, modular V8.  Although with the right power modifications it's possible to push the horsepower upwards of 750hp.
It is currently used to power sports cars like the Ford Mustang, and pickups like the Ford F-150. We also use them in our restomod Bronco builds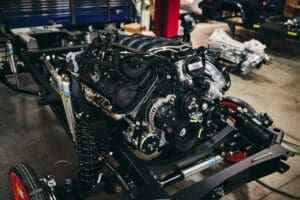 The Coyote 5.0 is now on its 3rd generation of design in only ten years, with a 4th planned for 2024. The current V-configuration features a dual overhead cam (DOHC) and relies on Twin Independent Variable Camshaft Timing (Ti-VCT) for improved fuel economy and lower emission power delivery. Also, negating the downside of the older VVT system and its oil based timing system, the Coyote 5.0 benefits from more accurate cam phasing via cam torque actuation (CTA).
All in all, it's one hell of an engine and we are proud to fit them in our vehicles.
The history of the Coyote Engine
First launched in 2011, but conceived in 2007, the Coyote was designed and built specifically for the Mustang as a new high performance engine and something that could compete against the new builds from Chevy
In 2009, General Motors relaunched their Chevrolet Camaro, with a modern 3.6-litre V6 putting out 304bhp. Then in 2010, the 6th generation Dodge Charger from DaimlerChrysler hit the production line, with a suitably shouty muscle-car look this vehicle had a 375bhp V8.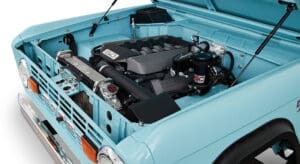 Naturally the Ford offering had to go a step further, so its 5.0 liter, four-valve TiVCT V8 was spec'd to not only out perform these vehicles by exploiting newer technologies, but was also intended entirely for mainstream production.
Looking back and seeing how the Coyote took to the mainstream while further evolving over the years, they were clearly on the money with that first generation build.
Consequently, the 1st gen Coyote 5.0 showed immense promise at the heart of one of the most important Mustang V-8's. It was in production from 2011 through to 2014 and retailed for just $7,500.
The 2nd gen in 2015 saw the first major design changes for this engine – with the main focus being to help it breathe better, especially at high speed. That included larger intake valves, larger exhaust valves, revised intake / exhaust camshafts, and stiffer valve springs to ensure full valve closure at high RPM's.
In 2018, Gen 3 saw further modifications, with the addition of a more advanced Direct and Port Fuel Injection, and the Twin Independent Variable Camshaft Timing (Ti-VCT). With a new high-flow cylinder head, and increased compression ratio, the engine is capable of delivering 460 horsepower at 7,000 rpm which translates into 420 ft per lb or torque at 4,600 rpm.
In 2024, we'll see further improvements still with additional horsepower gains within a largely similar block to that of the gen 3.
5.0L (302ci) V8 "Coyote" Technical Specifications
| | | | | |
| --- | --- | --- | --- | --- |
| | GEN 1 COYOTE | GEN 2 COYOTE | GEN 3 COYOTE | GEN 4 COYOTE |
| | 2011 – 2014 | 2015 – 2017 | 2018 – 2023 | 2024+ |
| HORSEPOWER | 412 / 420 | 435 | 460 | 480 / 500 |
| DISPLACEMENT | 4.951 L | 4.951 L | 5.035 L | 5.035 L |
| COMPRESSION | 10.5:1 | 11.0:1 | 12.0:1 | 12.0:1 |
| BORE | 92.2 MM | 92.2 MM | 93 MM | 93 MM |
| STROKE | 92.7 MM | 92.77 MM | 92.7 MM | 92.7 MM |
Ford Muscle Cars – a new generation
Back in 2011 when the Coyote 5.0 Liter V8 was launched, it was able to bridge the unwelcome gap between what had become widely expected from Ford's production line capabilities and the performance for which the car builder aspired toward.  Chevrolet and Dodge were on the coattails of Ford so they needed something pretty special to grab themselves some lead.
Fast forward ten years and it's clear to see how the 5.0-liter Coyote has achieved its goals and hit some impressive milestones. With clear success in the Mustang, the Coyote engine is equally favored by tuners and can be seen powering up drag strips right across the country.
The future of the Coyote engine?
There are many emerging developments with more eco-friendly engines, and a shifting consumer dynamic looking for more sustainable ways of getting around. Not to mention the government placing increasing downward pressure on manufacturers to try and shift away from the V8 gas guzzlers of days gone.
However, despite all this, people still want a V8. We want a V8. There is no match for the rumbling growl of a V8. The Coyote 5.0 is nothing short of perfection in this regard, and we're pleased to hear that Ford is intending to keep on building their V8's for the foreseeable future, albeit the road ahead isn't entirely clear.
But what's next for the Coyote beyond 2025? Will there be a 5th generation that sees a fuel swap? Quite possibly.  With Ford's recent 2022 patent for a V8 engine that has the same architecture as a gas based V8 but is fueled by hydrogen, it's certainly on the cards that we eventually see the dawn of an entirely new class of engine, and one that plays a valid role for both eco-warriors and gearheads alike.