Classic Ford Broncos builds 1973 Bronco Restomod to be awarded to the winner of the 50th anniversary charles schwab challenge.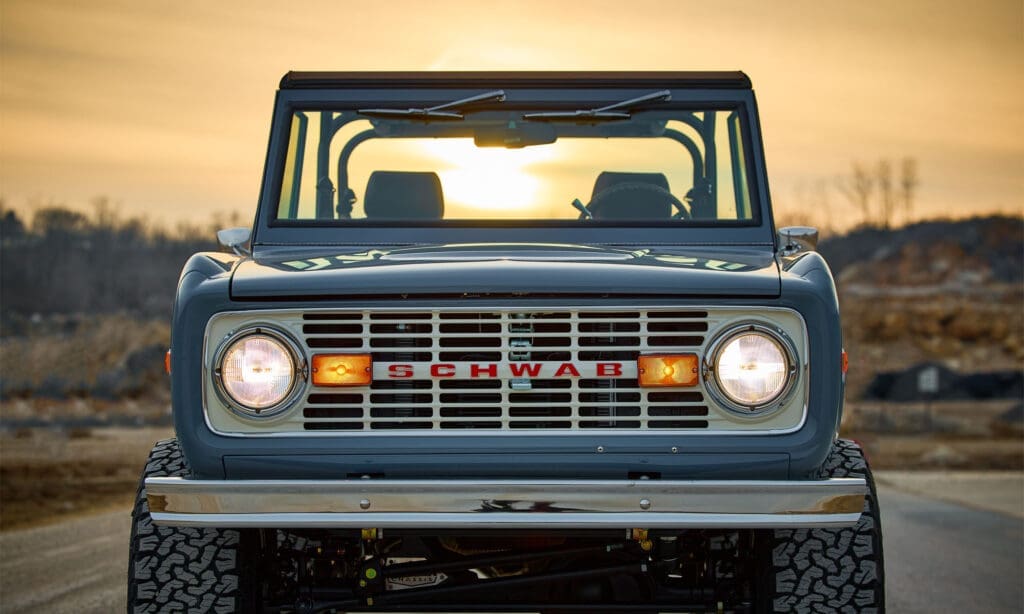 We are delighted to share with you that we were commissioned by Charles Schwab to build them a Bronco with a 1973 VIN to commemorate the 50th running of the Charles Schwab Challenge held at The Colonial Country Club in Fort Worth, TX.
The PGA and its affiliated events are riddled with tradition stemming from rich heritage. The Charles Schwab Challenge is no exception. In addition to Colonial's Leonard Trophy and their Scottish Royal Tartan Plaid Jacket, also given to the tournament champion, a new tradition emerged for the tournament in 2019 by way of an exclusive one-off custom built automobile. We answered the call and together were able to create a truly bespoke beauty of a truck. See the official Press Release below.
---
Classic Ford Broncos Custom Coyote Series Truck Featured As PGA Tournament Grand Prize
The Charles Schwab Challenge has chosen Classic Ford Broncos as builders of the 50th Anniversary Tournament 1st Prize automobile.
Columbus, OH, May 3, 2023 — Classic Ford Broncos, builders of renowned 1966-77 Ford Bronco restomods, announced today they were chosen to build the Grand Prize automobile for the 50th Anniversary of the Charles Schwab Challenge, being held at The Colonial Country Club in Fort Worth, TX on the week of May 22, 2023.  Schwab's commitment to being at the forefront of technology and providing unmatched service to clients parallels Classic Ford Broncos' ethos perfectly.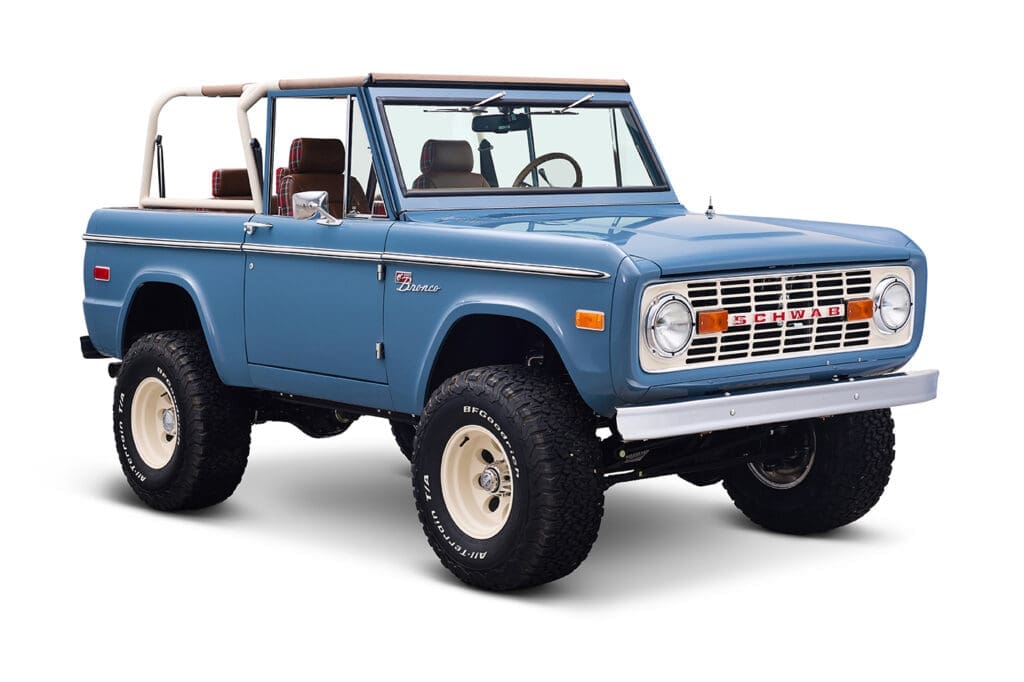 A 1973 Ford Bronco was specifically picked to commemorate the year the Challenge began.  Classic Ford Broncos packed it's perfectly curated recipe of horsepower and elegance into the Grand Prize, and along the way paired subtle bits of the tournament's personality into the design.  This one-off, tailored Classic Ford Broncos built truck is completely bespoke from  front to back with the Challenge in mind, adorned with namesake lettering on the grill and tailgate.  Additionally, the tournament's proprietary plaid, used for the victor's 1st prize jacket is visible throughout the cab.  The truck was spec'd in classic Porsche Etna Blue over Classic Ford Broncos' signature Whiskey leather and topped off with custom, hand-stitched carpeting.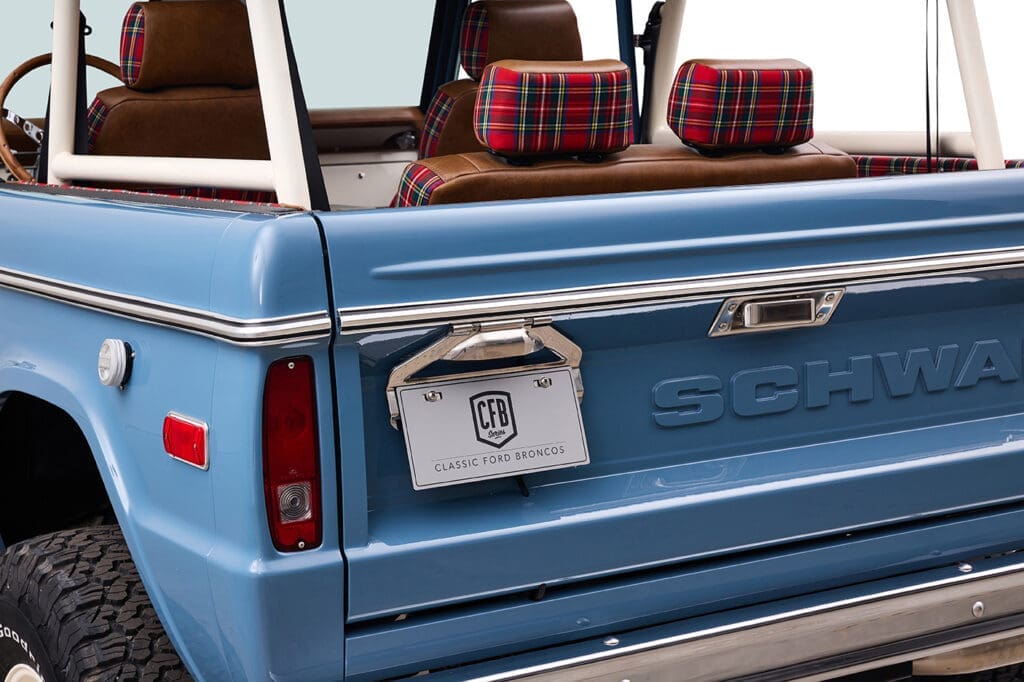 After a year of planning, designing and building, the Classic Ford Broncos' built Grand Prize is ready to unveil for the 2023 tournament field.
Classic Ford Broncos x Charles Schwab Challenge Bronco Details:
3rd Generation Ford Racing Coyote 5.0L V8 Engine
10-Speed Automatic Transmission
Push Button Transfer Case – 2WH, 4WH & 4WL
Borgeson Power Steering & Wilwood 4-Wheel Disc Brakes w/ Hydroboost Assist
CFB Custom Diamond Stitch High Back Seats
CFB Custom Carpet Kit
Powder Coated Wheels & Family Roll Cage
Custom Bluetooth Alpine Stereo – 6 speakers, 8" hidden subwoofer, Sirius XM compatible
"We were beyond excited when Schwab approached us to be involved with the Challenge," said Bryan Rood, owner and founder of Classic Ford Broncos. "It's an honor to be commissioned to build a Bronco for such a milestone in Schwab's history and we can only hope that the tournament's winner will put as many miles in it as we would."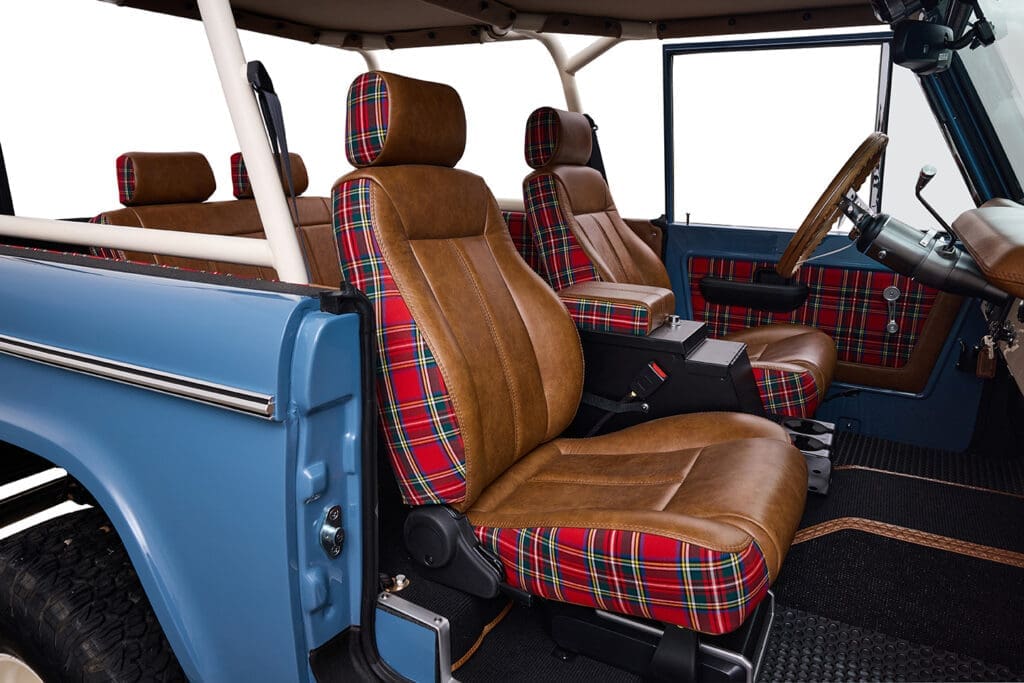 About Classic Ford Broncos
Founded by Bryan Rood in 2008, Classic Ford Broncos is the nation's leading builder of bespoke 1966-1977 Ford Broncos. CFB is dedicated to marrying the renowned americana behind the well-revered old trucks with modern technology and reliability. Each truck is reborn using only top-of-the-line componentry for a 21st century makeover in our Columbus, Ohio facility. Find all information about our custom built Broncos at www.classicfordbroncos.com, design your very own dream truck on our Bronco Builder & follow along with us on Instagram at @classicfordbroncos.
###